"5 years, 3 LOAs, and 2 majors later, I can say that there is healing in learning. My healing journey happened in a supportive learning environment. My therapeutic milieu— a healing village— that is, UPOU, the University of the Future."
In one of the webinars that I attended last year, UP Open University (UPOU) Chancellor Melinda Dela Peña Bandalaria quoted an African Proverb, "It takes a village to raise a child." Building on this adage, I would like to share a story of a healing village called UPOU.
I entered UPOU in 2016, unsure about where my life was heading and insecure about my career path. I must admit, I only gave graduate school a try for two reasons: (1) the constant reminder from my cousin, who was about to finish his masters at the University of the Philippines Los Banos (UPLB) at that time, and (2) an attempt to revive a nursing career that was long gone.
My first semester was categorically an epic fail. I was not prepared for distance learning. Believe it or not, I even resigned from my call center job just to make my studies work, but to no avail. I eventually dropped all my subjects and filed for a yearlong leave of absence (LOA). I was literally a dropout. I was jobless for a few months. I was down.
How did I start getting up? An opportunity to teach online came. I grabbed it not only because I needed a job but also out of curiosity, specifically on how distance teaching and learning really work. Unexpectedly, I fell in love with online synchronous tutoring to the point of wanting to specialize in it. However, I had to pick up where I left off. The next academic year went by smoothly, having completed all my enrolled subjects in the nursing program for two consecutive terms.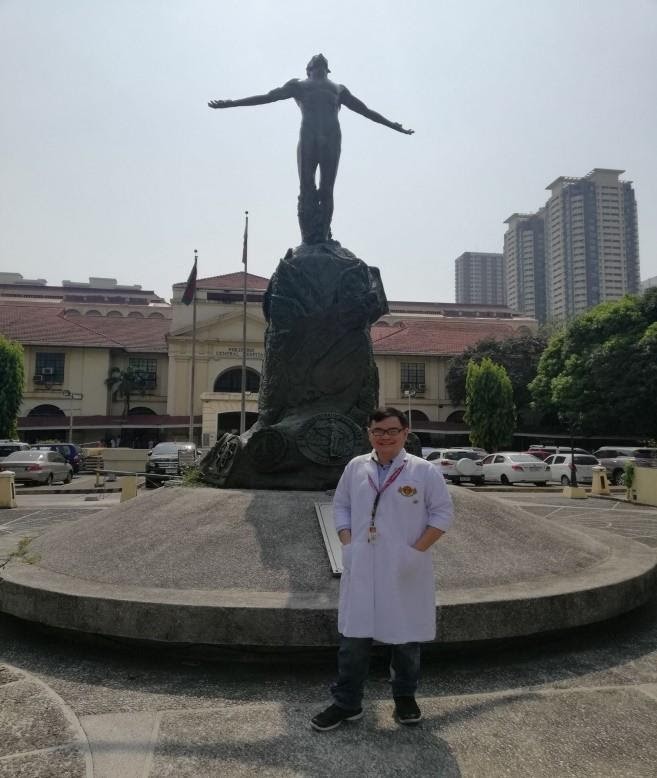 The death of my two fur-babies (whom I started this journey with) in 2018 greatly affected my mental health wherein even the slightest pressure, including the thought of continuing my studies, triggered anxiety attacks. Yet again, I had to pause and filed for another year of LOA.
When things went wrong, I was reminded of the values that Asst. Prof. Rita Ramos, my Advanced Pathophysiology professor, taught us. She said that what will help us succeed in our UPOU studies are: humility and perseverance— humility in accepting failures and perseverance to carry on.
When I returned to UPOU for the second time, I undeniably felt the support and nurturing presence of Asst. Prof. Queenie Ridulme (the Master of Arts in Nursing or MAN Program Chair) and Asst. Prof. Maria Rowena Raymundo (the then Graduate Certificate in/ Master of Distance Education or GCDE/MDE Program Chair), a nurse and a medical doctor, respectively, when I asked for their green-light to enroll in GCDE courses in order to find answers to the what-ifs in my life at the time. I was already in my third year of teaching online and I really wanted to explore the theories of distance education (DE) to guide me in the job that I accidentally fell in love with.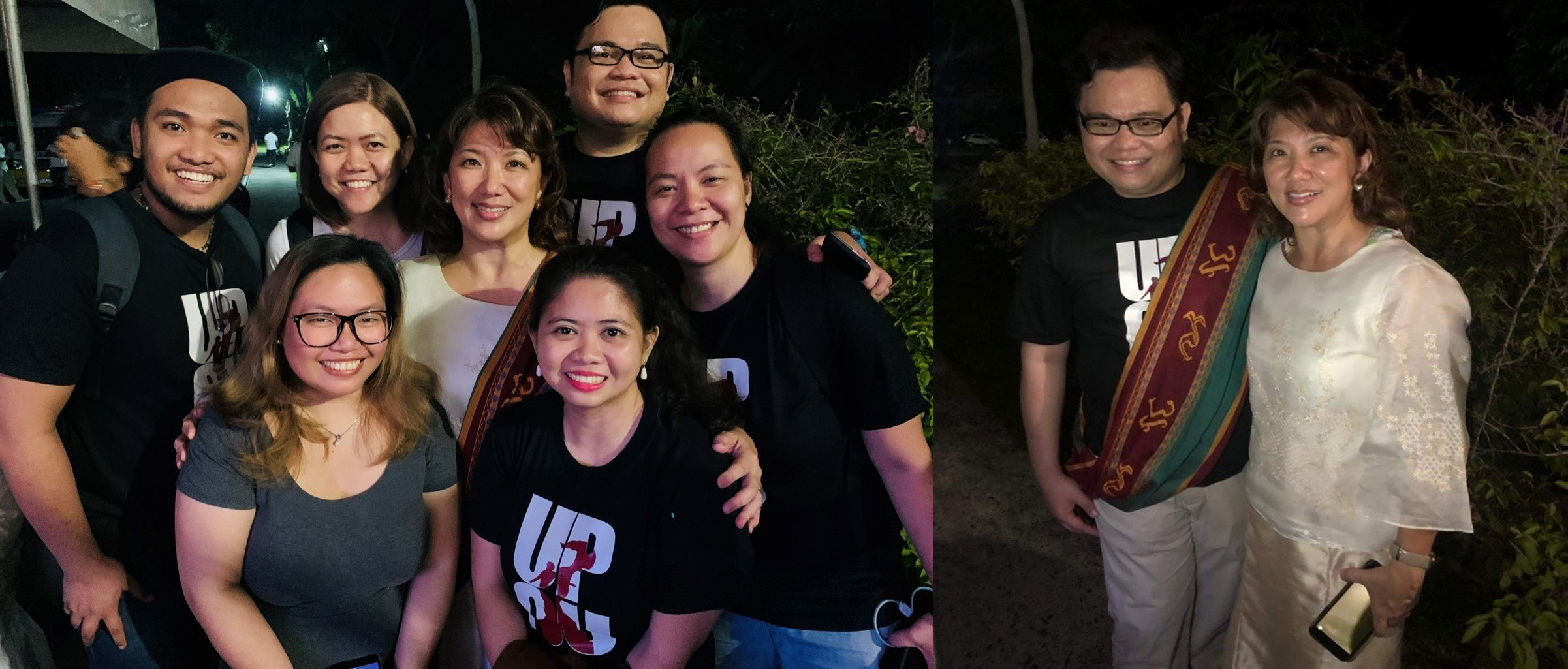 At the same time, I took up a Continuing Education Program (CEP) course under the Faculty of Management and Development Studies (FMDS) called New Enterprise Planning (NEP). This is where I learned the resounding mantra of our course coordinator, Sir RM Nisperos, that is, to "think big, start small, and act fast," which propelled me to finally shift to the GCDE program the following trimester.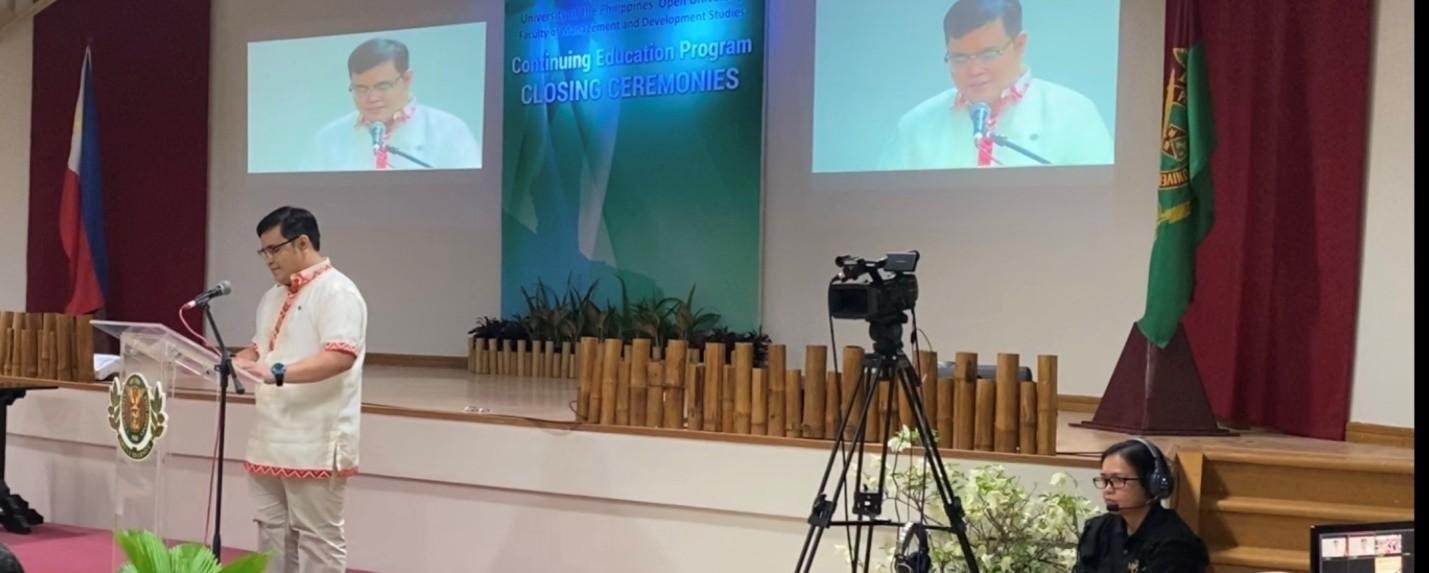 My last test of faith happened during the first few months of the COVID-19 pandemic. I filed for another LOA because I was on the verge of losing one of my two sources of income. This last LOA was a make-or-break one because if I stretched it for a year, I would exceed the maximum residency rule (MRR) for GCDE.
But while away, I continued watching several UPOU webinars like the UPOU-PLDT InfoTeach which aim at educating the public on distance learning and teaching. These webinars redirected my focus back to my studies and made me see the value of lifelong learning whether I am in or out-of-school.
Fast forward to 2021, my anxiety attacks have subsided. And after 5 long years, I am finally wearing the coveted UP Sablay! Indeed, 5 years, 3 LOAs, and 2 majors later, I can say that there is healing in learning. My healing journey happened in a supportive learning environment. My therapeutic milieu— a healing village— that is, UPOU, the University of the Future.

This year, I had the honor to serve as the Keynote Speaker for the Pre-Commencement Exercises of my college alma mater, Mindanao State University College of Health Sciences. I was also chosen as one of the resource speakers/discussants in the 13th Episode of OPEN Talk this coming September 22, 2021 to share my new endeavor. It was a big leap from being a mere spectator in the past webinars to being a resource person.
Looking ahead, the knowledge that I have acquired from UPOU and the experience of conducting over 9000 one-on-one online training sessions in the job that came a few months after my disastrous first semester have given me a sense of certainty and purpose and boosted my confidence to start a new endeavor, Frances Rapirap Mituda Review and Tutorial Center. It is a small-scale project/business that resembles the online on-demand style of learning, which also aims at capacitating both teachers and learners in the new normal of teaching and learning. What started as a hypothetical DE institution in my faculty- marked assignments (FMAs) in Asst. Prof. Roel P. Cantada's EDDE 204 (Assessment of Learning in Distance Education) and Prof. Primo G. Garcia's EDDE 205 (Management in Distance Education) is now a newly registered entity with DTI and BIR.
Maraming maraming salamat, UPOU!
Written by: JEFRMituda